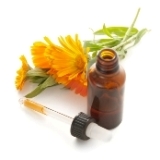 Bach Flower Remedies
The Bach Flower Remedies were created by Harley Street Physician Dr. Edward Bach who wanted to offer his patients a way of healing that was natural, 100% safe and also very effective. In the early part of the 20th Century, he dedicated himself to devising a system of healing plant tinctures that became known as The Bach Flower Remedies.
The Remedies consist of 38 plants and flowers distilled into separate tinctures. Each tincture addresses specific negative emotional states and attitudes and when taken, restores the person to their positive emotional state and promotes the body's natural healing ability. The tinctures contain the life-force of the plant (the plant's energies) not the actual plant itself. The remedies act in a similar way to homeopathic, rather than herbal or orthodox medicines.
The remedies can be viewed as emotional tuning forks that provide the notes (or healthy emotional states) for the body to tune itself to. They are extremely helpful when taken as a standalone therapy or alongside other treatments. They are 100% safe, non-toxic and can be taken by babies, children, adults, the elderly, pregnant women and those suffering from illness. They are also extremely effective for animals.
Australian Bush Flower Essences
These ancient Bush Flower Essences are a gentle but effective way of dealing with underlying stresses, which unless rebalanced, manifest in our physical bodies. They work by aligning our subtle energies;those energies we feel, but do not see. When our energy field is in balance profound healing takes place throughout our physical, mental and emotional selves.
The flower essences primarily trigger our own inner resources of healing, thus naturally leading to wellbeing and a true sense of identity. The challenges of life from conception to childhood from adolescence to the middle years and into old age can be eased-even transformed, by the Bush Flowers. Pain is relieved and clarity of mind is restored both in states of trauma and in chronic conditions. During consultation clients foremost needs are considered and the appropriate flower essences are made into a 30ml bottle of drops to be taken twice a day.
An initial 60 minute consultation is just £50 which includes a 30 ml bottle of essence, further bottles are £12 each. Follow up telephone consultations are £20