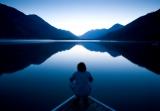 Sunday Morning Mindfulness Mini Retreat
"Slowing Down and Tuning In"
Sunday 30th April 10am -1pm, £20 per person.
A gentle morning of guided mindfulness practice and deep relaxation.
Suitable for beginners or those with some experience.
To book your place or for more information please contact Simone direct on 07784 304843, or email: sv.stolton@yahoo.co.uk

Mindfulness
Mindfulness is a buzzword at the moment. What does it mean and how can it help me?
Many of us are preoccupied with what has just happened or what we need to do next. Our attention is often on people, events or concerns that are outside of us. Sometimes, we can become over-focused on internal states which intensifies a sense of pain or discomfort.
Mindful awareness is about paying attention in a flexible way to what is going on inside ourselves now.
Learning to pay attention mindfully helps us to:
• manage feelings of stress as well as pain, both physical and emotional
• keep thinking clearly while swamped with feelings
• stay calm in the face of things or people that usually 'trigger' us
• increase our sense of mental well-being.
If you would be interested in a short intensive programme to learn how to be mindfully aware and increase your mindfulness skills, contact
our reception.

Mindfulness Yoga
With Simone Stilton DIP BWY, Thursdays 10am-11.15am
Gentle yoga and mindfulness training for mind and body.
To book or enquire please contact Simone directly on 01227 750573, or 07784 304843.