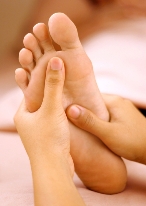 Reflexology
Reflexology uses specialised techniques to stimulate reflex points on the feet which directly relate to all of the areas of the body. The aim is to encourage harmony within the body, allowing it to work more efficiently, and to relieve stress and tension.
Reflexology is an extremely relaxing treatment and an ideal introduction to complementary therapies as it is gentle and doesn't require the client to undress. After a foot cleanse, the treatment begins with some relaxation techniques before the reflexology commences. The treatment ends with a foot massage, leaving your feet feeling light and pampered, even those with ticklish feet will relax and unwind as the treatment progresses!
Reflexology
50 minutes - £35
Facial Reflexology
Gentle pressure is applied to the face using the same principle as foot reflexology. This treatment is extremely effective in relieving stress and tension in the face.
Facial Reflexology
50 - £35
Combination Foot and Facial Reflexology
A deeply relaxing treatment using natural products first on the face and then the feet to relax the mind and body.
Combination treatment
1 hour - £50
Holistic Facial Pamper
This blissful treatment begins with a holistic facial using organic products followed by a combination of Facial reflexology and Zone Face Lift massage techniques using specialist tools to stimulate and rejuvenate the skin leaving you glowing inside and out!
Holistic Facial Pamper
90 minutes - £75
Zone Face Lift 12 week programme
Using facial massage techniques the ZFL treatments stimulate the skin, sculpt the face and smooth out fine lines often showing visible results early on in the programme. Treatments are bespoke to the clients needs and are most effective when carried out on a weekly basis. This unique treatment offers a credible natural alternative to dermal fillers and Botox.
Zone Face Lift 12 week programme
12 x 75 minute sessions - £800

16 Faversham Industrial Estate Graveney Rd Faversham, Kent ME13 8UJ
01795 538648
therapies@soul-solutions.com