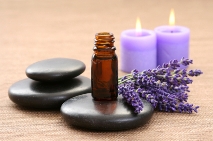 Aromatherapy
Aromatherapy massage is one of the most luxurious treatments in the complementary therapy range. It combines the healing power of massage with the therapeutic properties of Essential oils to help improve physical and emotional well-being.
Essential oils are present in minute quantities within the leaves, flowers, fruit, grass, roots, bark, gum or blossom of plants, and are what gives a plant its fragrance. In an aromatherapy treatment, essential oils are chosen for each clients specific emotional and physical needs and applied using a gentle, soothing massage which includes some pressure point work. An aromatherapy treatment includes a massage of the whole body, including the face, scalp and feet, a real top-to-toe treatment.
Aromatherapy Massage – 90 minutes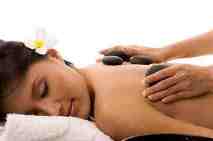 Hot Stone Massage
Hot stone massage dates back to over three thousand years. The treatment originated in China and India, and more recently has been used by the North American Indians living in the South West states. Some native healers used heated stones to ease the discomfort of menstruation or muscle tension in other areas.
Hot stone massage is a specialty massage that uses smooth, heated stones. They are often basalt, a black volcanic rock that absorbs and retains heat well. The heat is both deeply relaxing and helps to release tight muscles. It is generally accepted that one stroke of the heated stone is the equivalent of five strokes of the therapists hands! The benefits of hot stone massage include increased local circulation and improved blood flow to the surrounding tissues, aiding healing and greater ability to transport toxins and waste products from the area. This treatment is deeply relaxing whilst also being extremely effective in relieving muscle tension.
Hot Stone Massage – 60/90 minutes