Tiny Talk
Our baby signing classes are one hour long and are the same structure every week to help your little tiny talker feel secure in his or her environment. With your baby you will get to sing nursery rhymes, march around to walkabout songs, take part in sensory activities and learn around 5 signs every week.
During the second half of the session babies have the chance to play whilst grown ups can grab a warm drink!
Suitable for babies from birth to 18 months
for more information or to book in
Contact Deb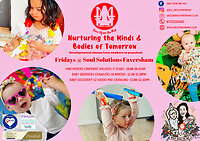 Once Upon the Mat
Once Upon the Mat
Established independently in 2018, Once Upon the Mat provide a variety of baby and toddler classes to support your child's development and create lasting memories. Our Multi-Sensory Baby Development classes 'Baby Discovery' takes you on a themed adventure each week, whether that be through the jungle, or experiencing a festival at our very own Baby Glastonbury! Once you baby begins crawling, our Music & Movement class 'Baby Groovers' helps to support your child's curiosity and foster a passion for music as we tap, clap, dance, move in order to support fine and gross motor development. Our next stage class is 'Mini Movers' where you can join once your little one has mastered walking. They can explore our developmental play gym, tuff tray play and developmental activities, all created to support your child's nursery and school readiness.
Suitable from 12 weeks – 4 years
For more information or to book contact Adele