Pilates
We have been offering Pilates classes at Soul Solutions since 2011 during the Covid19 Pandemic classes are being offered online.
Many people tend to stay in their group for months or years, getting to know each other and forming friendships, truly a 'lifestyle' rather than a 'course' for people who enjoy the benefits of a more flexible and stronger body
Pilates at Soul Solutions is suitable for various abilities – including Pre/Post Natal, Common Orthopaedic Conditions, Exercise on Referral - in a pleasant, relaxing and friendly environment with Nicola, who gives individual support to help you achieve your goals
Gentle Pilates, Beginners and Improvers - Wednesday at 10.30am
This class is suitable for those who enjoy a slower pace to learn and practice
We include extra stretching and exercises from the iMove Freely tm programme to help muscles to relax thereby improving mobility and helping to relieve chronic pain
Pilates Improvers/Intermediate - Wednesday at 6.45pm
A more traditional yet varied Pilates mat work class helping you to improve strength, stretch and posture. This is a faster paced class suitable if you have some previous experience or are new to Pilates and a quick learner
Pilates On The Ball - Mixed Ability - Wednedsday at 8.00pm
A fun and effective way to improve strength and recruit muscles you never knew you had!
This popular class is paced to suit the ability of participants from complete Beginner to Intermediate
All Mat based Pilates classes are payable for 6 consecutive classes in advance £40
Pilates on the Ball £42 per consecutive 6 classes
Taster classes (max 4) £8.50 each, subject to available places
Individual Sessions also available tailored to your unique needs.
Typical sessions include a biomechanical assessment with corrective exercise, Pilates tuition and maybe nutrition and lifestyle advice
Sessions £40 (one hour). Can be shared with a friend - £60
Yang Family Tai Chi - Tuesdays at 7pm
During the Covid 19 Pandemic classes are not taking place , please watch the government guidelines or contact us to be advised when classes are able to resume.
Yang style Tai Chi is a slow, low-impact exercise combining conscious movements and conscious breathing. The class is suitable for everyone looking to learn own body awareness in a relaxed atmosphere. By keeping movements within their natural alignment and timing them with your breathing according to Tai Chi principles, you will learn how that affects the power and strength that can be generated while alleviating any undue stresses on the joints.
Tai Chi classes are £6.00 per session. Discounts are available for block bookings.
Aerial Yoga
Airhedz Aerial Yoga
Under normal circumstances classes run
Mondays: 6.15-7.15pm & 7.30-8.30pm
Tuesdays: 5-6pm, 6.15-7.15pm & 7.30-8.30pm
During the Covid 19 Pandemic classes are unable to take place but please contact us to be included in our shout out when classes resume.
Aerial Yoga uses specialist wide fabric hammocks hung at about waist height to blend aerial and yoga movements.
The bespoke Airhedz sequences flow to encourage balance, stamina, strength, flexibility and overall wellbeing, in a fun and challenging manner.
Participants are invited to engage with the movements in ways that best suit them, with expert guidance from Tina Carter, who started her professional aerial career back in the early 1990s!
Tina is always exploring new and alternative ways to move with the hammocks that are suitable for total beginners, with enhanced challenges available for the more experienced.
Tina is keen to make her work as accessible as possible. She specialises in working with Deaf and disabled artists, working regularly with Graeae Theatre Company in London, and is currently studying BSL and Audio Description. If you have specific support requirements, please don't hesitate to contact her to discuss your participation.
Tina is also now writing a book on her aerial life, with an academic editor and publisher in place, and proposed publication in spring 2021.
For Tina, the teacher, as well as the students, are always in the process of learning.
Come and join in the fun of suspension!
BOOK YOUR PLACE:
Email:
[email protected]
FURTHER INFORMATION:
Call: 07973 480770
Visit:
www.airhedz.co.uk
Yoga
Yoga - With Emma Harrison - Saturdays at 9am
A 60 minute Vinyasa Flow style class suitable for all anyone with a reasonable level of fitness and a desire for a fun free flowing class. The practice will focus on synchronising breath with movement, developing strength, stamina and flexibility. Participants will be encouraged to develop greater body awareness through bringing their focus to specific areas during the practice and recognising how to work within their own strengths and challenges to develop a therapeutic, holistic practice. Come ready to leave your ego at the door and embrace the heart-warming challenges that a yoga practice can bring, no experience necessary.
Classes are £6.50 per session. Discounts are available for block bookings
BOOGIE BOUNCE
Boogie Bounce with Sarah Holton
for evereything you need to know click
information,classes and prices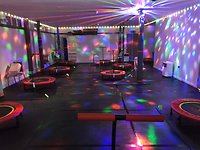 BOOGIE BANDS
Boogie Bands with Sarah Holton
for evereything you need to know click
information,classes and prices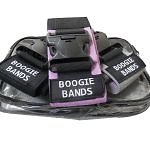 GROOVE
Groove- With Michelle Gilbert aka Grandma Groove - Thursdays at 2 p.m
"Groove" is an exercise to music class that is guided by a trained facilitator who encourages unity and expression. You'll experience everything from slow delicious meditative grooves, to heart thumping and strength building cardio beats, with some contemporary music and even a bit of Abba thrown in perhaps.
A delicious and fun group dance experience that nurtures the Mind, Body, Heart and Soul – No experience needed
Michelle aims to increase people's health and wellness through Groove dance rooms in and around Kent and London and possibly further afield.
GROOVE TRUTHS
• You Can't Get This Wrong – When we believe this to be true, there is no stress!
• You Are Supposed to Look Different, You are UNIQUE – Ahhh, that is a relief!
• No One Cares What You Look Like – Once we realize this, our stress load is much lighter!
• No One Can Do This For You – Empowering, we get to do this for ourselves!
• Practice – Get your GROOVE on, OFTEN and you will experience less stress all around!
Book a class today and find out more about how Groove can help you too.

16 Faversham Industrial Estate Graveney Rd Faversham, Kent ME13 8UJ
01795 538648
[email protected]